About: José Luis Díaz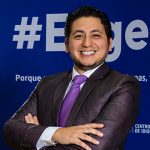 Profile

José Luis Díaz is Head of the In Company area at CIDUP. He has specialized in English for Specific Purposes (ESP), not only by training teachers but also by creating and developing tailor-made courses for several national and international companies. He leads a team of over 50 teachers that specialize in TEFL while analyzing the specific needs of the modern executive.

He holds a Bachelor's Degree in Education from UNMSM and has studied Organizational Psychology at PUCP. José Luis is a Cambridge Speaking Examiner at all levels, ranging from YLEs to CPE. He is also acting Cambridge Team Leader for CIDUP, training and monitoring speaking examiners in order to comply with international standards.

He is an active speaker for CIDUP, giving talks on professional development for executives, as well as at CIDUP's Annual Congress trying to spread awareness on the importance of ESP for companies and teachers in general.
Posts by José Luis Díaz: